Greater Pittsburgh Suzuki Institute for Teachers
July 25, 2015

-

August 2, 2015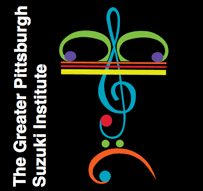 The teacher training institute dates are July 25 – August 2, 2015.
The teacher courses are an inspiring, supportive means for exploring teaching. Trainees will learn about the repertoire and techniques used in the unit being covered.
To take Suzuki teacher training, teachers must be active members of the SAA. Courses must be taken in order through Book 2: ECC, Book 1, Book 2.
Audition Requirements have changed for 2015. Please check with the SAA for new audition requirements prior to registering.
To qualify as a participant in SAA Teacher Workshop unit courses, applicants must submit a DVD video audition to the SAA, preferably well in advance of taking the course. DVDs should be submitted at least 8 weeks prior to the course start date, with the required fee and a completed application form.
If auditions are not accepted, course work will not be eligible for SAA registration—even if course work was completed. For further information, please refer to SAA and find the teacher video audition application form and instructions, or call the SAA toll free at 1-888-378-9854 for this form.
Required Course Preparation
All teacher training participants are asked to prepare the repertoire to be studied to the point of fluent perfor¬mance. Memorization is not required but is recommended. Additionally, partici¬pants should be conversant with the ideas presented in Dr. Suzuki's book Nurtured by Love.
All participants will be performing Suzuki repertoire and other materials in class. Strings and woodwinds are expected to provide their own instruments. It is recommended that participants bring an audio recorder and a notebook to all sessions. 100% attendance is required for registering the course.