Town Hall South: Jacques Pépin and Daughter Claudine
March 3, 2015 at 10:10 AM

-

11:10 AM

MEMBERSHIP ONLY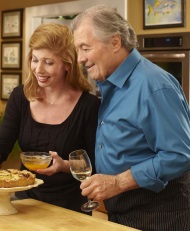 Master chef, author, and educator Jacques Pépin is the "original Iron Chef." He has published more than 25 cookbooks, hosted 12 highly acclaimed public television shows and taught millions of Americans – plus an entire generation of chefs – how to cook.  His innovative approach to the kitchen begins with technique and ends with creation, believing that every meal should be a celebration.
Pépin has taught at the French Culinary Institute since 1988, currently serving as Dean of Special Programs.  He shared the spotlight with the iconic Julia Child on the award –winning show Julia and Jacques Cooking at Home.The series went on to win a Daytime Emmy and the James Beard Foundation's Award for Best National Cooking Show. Pépin writes a quarterly column for Food & Wine and offers an amateur class each semester based on varied culinary topics.
Claudine has spent a great deal of time in the wine industry teaching food and wine pairing for both the French Culinary Institute and Sommelier Society in New York. She continues to do television and events with her father, Jacques, and is host of The Zen of Taste, filmed in Hong Kong. Besides the three James Beard Award winning public television shows done with her father, Claudine has had numerous television appearances including "Cooking Live with Sara Moulton," Good Morning America," and Molto Mario." She currently is a partner in a cooking school. "A Cook's Kitchen," in Denver Colorado.