Ah, Wilderness!
October 27, 2018 at 7:30 PM

-

9:30 PM

Free – $8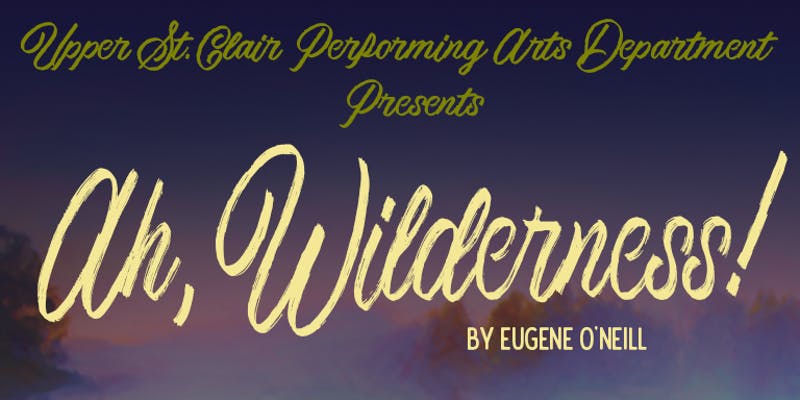 Ah, Wilderness!, A comedy of Recollection in Three Acts, creates a picture of our country set in 1906 in which the lives of the characters and the aura of their town is filtered through sunlight. The comedy portrays an age of innocence and charm. Set on the Fourth of July, it celebrates an America as yet untouched by world war, widespread poverty, divorce, and other social ills that now form a part of our memory of the twentieth century. O'Neill said he had presented the "real America." The play is often described as a "dream play" and, in fact, is both literally and figuratively that. O'Neill woke one morning to find that he had literally dreamed the entire play, complete with title and made a complete outline for it that day. Figuratively, the play is a dream of what American life in a small town was in 1906. As such, it has been perceived as a play of almost total innocence and naiveté, a world filtered, as it were, through sunlight. It is also generally described and remembered as a charming picture of the innocence of youth and young love. Known as America's greatest tragic playwright, Eugene O'Neill's only comedy is Ah, Wilderness!
FAQs
Do I have to buy tickets online?
No. Tickets may be purchased at the theater box office the night of the show. The box office will open one hour prior to show time.
Do you offer a senior citizen discount?
Yes. Township of Upper St. Clair residents who hold a Gold Card are eligible to receive free admission to Ah, Wilderness. In order to obtain your free ticket, please present your Gold Card at the box office. The box office will open one hour prior to show time. Gold Card tickets are not available for purchase online at this time.
What is a Gold Card?
Upper St. Clair School District residents who are age 62 or older are eligible to receive a Gold Card – entitling them to FREE admission to the fall play and spring musical. To obtain your Gold Card, please visit the High School main office Monday thru Friday 7:30 AM to 2:30 PM. For more information about the Gold Card program, please visit https://www.uscsd.k12.pa.us/goldcard.
Who is considered a student?
A student is a person 18 years of age or younger who currently attends school in the Upper St. Clair School District.
How do I purchase accessible or wheelchair seating?
To obtain accessible or wheelchair seating, please visit the box office or email eventbrite@uscsd.k12.pa.us for assistance.
What is the refund policy?
No refund or exchange request will be accommodated except in the case of a performance cancellation.
---