Tartuffe – HS Fall Play
October 25, 2015 at 2:00 AM

-

5:00 PM

$1 – $7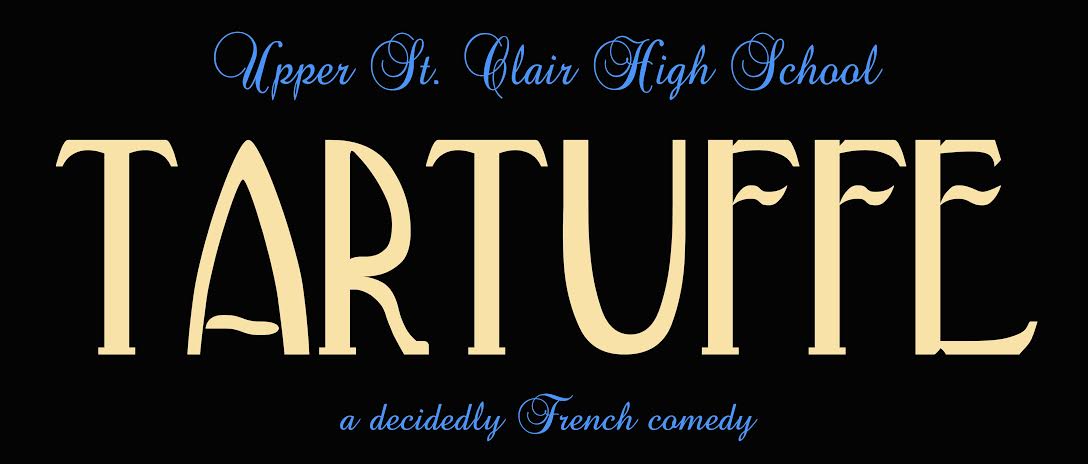 Tartuffe brings exaggerated comedy to the stage!
The Upper St. Clair High School Performing Arts Department presents its annual fall play, Molière's classic Tartuffe. Set in Paris in the 1660s, Tartuffe tells the comical tale of a wealthy Parisian patriarch who falls under the influence of a self-righteous hypocrite named Tartuffe.
The show will run on Wednesday and Thursday, October 21 and 22, and Saturday and Sunday, October 24 and 25. All shows, except for the Sunday matinee (2 PM), will start at 7:30 PM. Each show is performed in a "theater-in-the-round" setting at the Upper St. Clair High School Theatre.
The show will feature the acting talent of students Wyatt Keating, Alison Lento, Ben Nadler, Turner Queen, Zoe Rankin, Shebl Rosati, Mariya Savinov, Jordan Smith, Katherine Starr, Hannah Stolzer, Evan Strain, Izzy Tarcson, Barry Wandel, and Erik Warmbein.
Also contributing to the show are adult staff members JR Hall (director), Dr. Timothy M. Wagner (producer), and Terry Williard and Michael Binkley (technical directors). Zachary Heckler, Elizabeth McDonough, Alexa Rieger and Allie Ryave make up the student leadership team.
Tickets will be available at the door for "festival seating" (general admission). The cost per ticket is $7 for adults, $5 for students, and $1 for senior citizens. Any Upper St. Clair senior citizen with a gold or silver card or valid ID receives two complimentary admissions.
The Upper St. Clair High School Box Office opens one hour prior to each performance. You may call the Music Activity Hotline at 412-851-2060 for more information.