Music for Mt. Lebanon: HORIZON – Legends of Motown & More
October 18, 2014 at 7:30 PM

-

10:00 PM

$15 – $25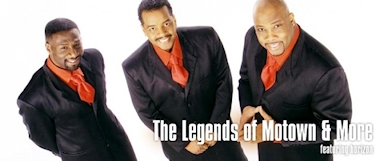 Straight out of Detroit comes Horizon, authentic, energetic, precise, harmonic, witty, and well-choreographed. Horizon, without a doubt, brings Motown back to our forebrain with class and poise. Dressed in classic Motown style, Rick Ingram, Prentiss "Smoke" Jones, and  Darrell K. Mathews (Eli) soon have the audience eating out of their hands, finger-snapping, moving, remembering, wanting to hear more of it all over again. Horizon's 3-piece accompaniment consisting of drums, guitar, and keyboard/bass synthesizer.
Horizon was spotted on The Tonight Show hosted by Jay Leno in a clip from the New York Auto Show, and was featured in Business Week Magazine, not to mention John Sally's The Best Damn Sports Show Period, harmonizing a special Super Bowl greeting to Detroit.
Horizon has shared their stage with many legendaries such as The Temptations and The Four Tops. Further, they opened for Davy Jones, the former lead singer of The Monkeys and world-class rock bands including the original and former artists from the world's greatest bands: Randy Meisner of The Eagles; Denny Laine of Wings and The Moody Blues; Fergie Frederiksen of Toto; and Ron Wikso of Foreigner.
Horizon's recent hit single, Swing Engine, was performed in St. Croix, where the record was Number One on the charts for months. Swing Engine has a happy calypso/soul feeling to it and comes with its own dance. Horizon has also enjoyed a great response to the video, which was seen on BET's Caribbean Rhythms.  
Knowing the importance of giving back a portion, Horizon has donated their talents to many worthy causes such as the The Jerry Lewis Telethon, The March of Dimes, The Children's Miracle Network, The Michigan Cancer Foundation, and The Isaiah Thomas Foundation's Celebrity Golf Classic.